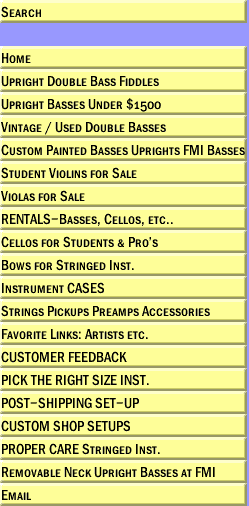 Eastman Model VB95 Antiqued Upright Double Bass Carved Top Hand Rubbed Varnish
Great quality woods, Excellent Workmanship.
Big PUNCHY W-A-R-M Carved Bass SOUND !
THIS BASS IS the BEST step up sound over top notch all laminated basses when you need a big cutting pizzicato (plucked) Bass.

FREE Commercial SHIPPING with Loading Dock or Hold-at-Terminal to pick up at Freight Line.


You can't go wrong with this carved top upright bass, Eastman has a reputation for high quality instruments for the money. The VB95 is a definite winner for being an outstanding bass for its price range. You get a 1st grade brand new bass professionally set up with adjustable bridge and great strings, ready to stand bridge and boogie! A low jazz setup takes many more hours of working on the fingerboard and bridge and is $175 more than setups for other styles of play. This can be selected in the options for setups. No charge for my doing any other style of setups, included in the Sale Price with free shipping too.

Busetto Shape is shown in the first closeup picture, the rounded lower corners of the waist is the busetto shape. Gamba Shape has plain C bout shaped waist corners, and Eastman makes them beautifully well.

The Andreas Eastman instruments were catapulted to international prominence when an independent review panel, writing in STRINGS magazine, selected the model 305 violin as its "definitive favorite." The basses are made by the same craftspeople and this antique varnished carved top bass, laminate sides and back is a big sounding winner for sure.


Entirely hand-crafted from select aged spruce and maple
German tooled brass tuning machines
Beautiful antique-style hand-applied shaded varnish
Internationally known for tone and craftsmanship
Outstanding modestly-priced step-up model
Available in sizes 7/8 3/4 1/2 1/4 and 1/8 in Gamba corners
For Busetto corners ask for the VB95BQ for $300 more.

Call me at 626-794-7554 (or cell: 626-316-2690) to get any questions answered or to place an order. I'm a helpful service-oriented guy, I'll be glad to talk with you.

Shipping to commercial addresses in the lower 48 States is included FREE OF CHARGE. For shipping quotes outside the continental United States CLICK HERE, identify this instrument (as below), tell us where you are and we'll e-mail a shipping quote back to you.



HOW TO FIND OUR STORE:
Turn down our driveway between the Retirement Center and 789 East Washington Blvd signage. Plenty of our own off-street parking. (Follow the signs that say "789 Parking in Rear".)
Our physical address is 789 East Washington Blvd. Pasadena, CA 91104.
Ph: 626-794-7554

Fantastic Musical Instruments specializes in the violin string family instruments
with a caring hands on approach.
Hours: Monday through Friday 11 AM to 6 PM
, Saturday 10 AM to 4 PM.
Sundays by appointment.
Call Ph: 626-794-7554 at least 48 hours in advance
for a Sunday appointment.
Need more information? Didn't find what you're looking for?
Give us your feedback.
Tell us how we're doing and how we can better serve you.
Click here to email Sales. OR Click here to email Customer Service.


View Larger Map