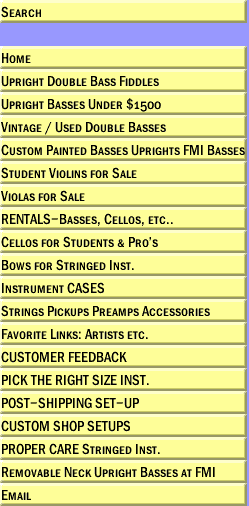 Many Colors of Weedwacker Upright Bass Nylon Strings for Rockabilly, Psychobilly or Bluegrass!!!

Florescent Yellow *Glows Under BlackLight*


Rockabilly Nylon Strings Weedwackers for Upright Bass; Kevlar Core Super Strings!!

Also spelled Weed Wacker, Weedwhacker or Weed Whacker Strings - best known as Weedwackers.

These High tension kevlar core weedwacker strings are EASY on the fingers because of the lower tension, smooth nylon surface and thicker diameter than steel strings.
Play LONG Gigs without tearing your fingers up!

If you can't afford $250 gut these are the next best thing going for great slapping sound and action, and WARM tone to the MAXXX!!

Lifetime warranty against fraying or breakage.

Recent customer feedback: "Dear Tom, Two weeks ago I ordered the radical red weedwackers and got them a few days later (!!) . Yesterday I put them on my double bass. What a great sound !! and of course a great look. Thank you very much. For me there will be no other strings on my double bass anymore. Greetings from Holland, Bert Radstake"

I've had numerous rockabilly bass players come to my store and play one of my basses setup with these weedwacker strings. They always start grinning and slapping like a rockin' fool. It's pretty obvious they LOVE these strings for rockabilly and psychobilly slap playing.
The slap sound gives a good clean click without heavy metallic overtones like steel strings do.
AND they are more flexible, lower tension than steel, and easier to handle in every way than steel strings.

Great for Bluegrass and Gospel as well, can be heard throughout a LARGE room, and if you're amping then of course they'll be heard well at any gig.



Highest quality Nylon material, and best research to find the best gauges of strings for strongest sound while maintaining ease of slap, AND enough tension to hold the bridge in place during aggressive slapping.
Lighter gauge nylon weedwackers have been too loose for some aggressive slappers and their bridges have come loose while playing.
THESE Weedwackers eliminate that problem.

They amplify well so why wait any longer, grab a set or two of weedwackers for your bass.

WE SHIP PROMPTLY all over the world.
Shipping/Handling is $8.50 for US Priority in the U.S. and
$24.95 for international customers via First Class International Mail.
$45.00 for Priority Mail Int'l.
Express to Europe is $55.00 with 3 to 5 day delivery time and tracking number,
very dependable fast delivery.
Get a few sets of strings at once, or get a bass pickup too and pay no extra shipping!

to ITALY we recommend the $55.00 Express with Tracking number and quick 3-5 day delivery. Priority is $29.00, gets no tracking number and takes 1 to 2 weeks usually to Italy, sometimes more. Priority gets a customs label number which only tells when it has cleared customs and been delivered.
First Class Mail Int'l for $24.95 to Italy has been taking 1 to 2 MONTHS and more to arrive.



HOW TO FIND OUR STORE:
Turn down our driveway between the Retirement Center and 789 East Washington Blvd signage. Plenty of our own off-street parking. (Follow the signs that say "789 Parking in Rear".)
Our physical address is 789 East Washington Blvd. Pasadena, CA 91104.
Ph: 626-794-7554

Fantastic Musical Instruments specializes in the violin string family instruments
with a caring hands on approach.
Hours: Monday through Friday 11 AM to 6 PM
, Saturday 10 AM to 4 PM.
Sundays by appointment.
Call Ph: 626-794-7554 at least 48 hours in advance
for a Sunday appointment.
Need more information? Didn't find what you're looking for?
Give us your feedback.
Tell us how we're doing and how we can better serve you.
Click here to email Sales. OR Click here to email Customer Service.


View Larger Map