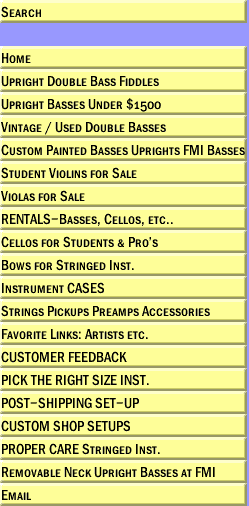 Adjustable Palatino Bass Bridge Replacement, shaped and adjusted to fit to your bass.

The bridge on the left is the stronger higher quality bridge; the cheap Palatino is on the right.

Work we do to this Bridge for you:

Lower and Reshape Top

Notch it with Standard Spacing of Strings

Thin upper half of Bridge to reduce mass

Mark feet E and G so you know which way it goes

Thin feet out to save you a LOT of sanding!

We DO leave the bridge tall enough for ANY Palatino Bass

We leave feet thick enough for thinning/shaping further if your bass needs that.



For custom Height: We need you to measure your Bridge Height- and tell us how tall it is by putting the dimensions in Order Notes at checkout.

This gives you a jump start on a properly setup bridge that fits your bass.

We can also paint the bridge to your specs.
Hey, we're great to work with! We don't just sell stuff,
we WORK on instruments and take pride in getting it right.

WE SHIP PROMPTLY all over the world.
Shipping/Handling is $6.40 for US Priority in the U.S. and
$14.95 for international customers via First Class International Mail.
$25.00 for Priority Mail Int'l.
Express to Europe is $45.00 with 3 to 5 day delivery time and tracking number,
very dependable fast delivery.

To ITALY we recommend the $45.00 Express with Tracking number and quick 3-5 day delivery. Priority is $25.00, gets no tracking number and takes 1 to 2 weeks usually to Italy, sometimes more. Priority gets a customs label number which only tells when it has cleared customs and been delivered.
First Class Mail Int'l for $16.95 to Italy has been taking 1 to 2 MONTHS and more to arrive. Note: To lower bridge - deepen notches the distance that you want your strings to come lower; then sand away excess wood above notches.



HOW TO FIND OUR STORE:
Turn down our driveway between the Retirement Center and 789 East Washington Blvd signage. Plenty of our own off-street parking. (Follow the signs that say "789 Parking in Rear".)
Our physical address is 789 East Washington Blvd. Pasadena, CA 91104.
Ph: 626-794-7554

Fantastic Musical Instruments specializes in the violin string family instruments
with a caring hands on approach.
Hours: Monday through Friday 11 AM to 6 PM
, Saturday 10 AM to 4 PM.
Sundays by appointment.
Call Ph: 626-794-7554 at least 48 hours in advance
for a Sunday appointment.
Need more information? Didn't find what you're looking for?
Give us your feedback.
Tell us how we're doing and how we can better serve you.
Click here to email Sales. OR Click here to email Customer Service.


View Larger Map