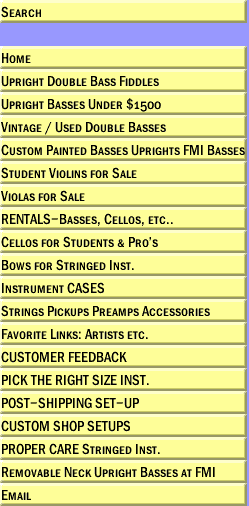 KK Sound Double Big Twin Upright Bass Pickup
The KK Double Big Twin is a four-headed double bass transducer developed specifically for jazz bass players. It harmonizes very well with jazz bass, because its transmission band includes very high and very low frequencies. The high frequency translation ensures a clean amplification of the finger attack with the picked bass. The low frequency translation refers to a desired very bassy sound picture.

Each string of the double bass is transduced separately with the Double Big Twin. This results in an extraordinary balance of sound to accommodate even the pizzicato playing mode. Double Big Twin is easily mounted with the supplied double-sided adhesive film and doesn't require modification of the instrument itself. This adhesive film has been selected carefully because it proved to have excellent qualities for sound transmission. The connection jack is held in a special attachment clamp to be mounted at the A and D strings between string-holder and bridge. We highly recommend one of our K&K preamps for impedance adaptation and pre-amplification. Technical Information:
Diameter of each transducer head: 3/4"
Height of each transducer head: 1/32"
Output impedance: high ohmic
Length of connection cable: 1 ft
Output: Stereo 1/4" jack, soldered mono mode.



HOW TO FIND OUR STORE:
Turn down our driveway between the Retirement Center and 789 East Washington Blvd signage. Plenty of our own off-street parking. (Follow the signs that say "789 Parking in Rear".)
Our physical address is 789 East Washington Blvd. Pasadena, CA 91104.
Ph: 626-794-7554

Fantastic Musical Instruments specializes in the violin string family instruments
with a caring hands on approach.
Hours: Monday through Friday 11 AM to 6 PM
, Saturday 10 AM to 4 PM.
Sundays by appointment.
Call Ph: 626-794-7554 at least 48 hours in advance
for a Sunday appointment.
Need more information? Didn't find what you're looking for?
Give us your feedback.
Tell us how we're doing and how we can better serve you.
Click here to email Sales. OR Click here to email Customer Service.


View Larger Map