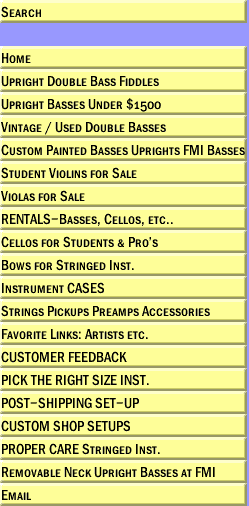 KK Sound Bass Max Upright Bass Pickup
This is a double bass transducer with sandwich design for "quick wedge-mount" in one bridge wing. Its sandwich design features a layered construction of two piezo crystals, one facing up and one down. This ensures an even transmission from the strings and from the body of the bridge with all its frequencies.

The Bass Max is located vertically to the vibrations and therefore transmits at a high volume. We recommend Bass Max for musicians playing both arco and pizzicato styles, as it transmits a broader mid frequency range. This enables the musician to change their playing modes without having to adjust the amplifier. The connection jack is held in place by a special attachment clamp mounted at the A and D strings between string-holder and bridge.

One Bass Max will evenly pick up the tone range of the double bass. A big plus is the Bass Max's superb compatibility with smaller bass combo amps. The Bass Max has these impressive features:

* Mechanical stability and sturdiness
* High output signal
* Balanced transmission over the whole tone range with just one Bass Max
* Rich harmony in reproduction of both arco and pizzicato
* Mantled cable eliminates disturbance

Technical Information:
Diameter: 22 mm
Thickness: 5 mm
Output impedance: high ohmic
Output: 1/4"
Connection cable length: 6"

WE SHIP PROMPTLY all over the world.
Shipping/Handling is $7.85 for US Priority in the U.S. and
$14.95 for international customers via First Class International Mail.
$39.95 for Priority Mail Int'l, 6 to 10 day delivery.
Express to Europe is $48.00 with 3 to 5 day delivery time and tracking number,
very dependable fast delivery.
Get a few sets of strings at once, or get a bass pickup too and pay no extra shipping!

to ITALY we recommend the $48.00 Express with Tracking number and quick 3-5 day delivery. Priority is $24.95, gets no tracking number and takes 1 to 2 weeks usually to Italy, sometimes more. Priority gets a customs label number which only tells when it has cleared customs and been delivered.
First Class Mail Int'l for $14.95 to Italy has been taking 1 to 2 MONTHS and more to arrive.



HOW TO FIND OUR STORE:
Turn down our driveway between the Retirement Center and 789 East Washington Blvd signage. Plenty of our own off-street parking. (Follow the signs that say "789 Parking in Rear".)
Our physical address is 789 East Washington Blvd. Pasadena, CA 91104.
Ph: 626-794-7554

Fantastic Musical Instruments specializes in the violin string family instruments
with a caring hands on approach.
Hours: Monday through Friday 11 AM to 6 PM
, Saturday 10 AM to 4 PM.
Sundays by appointment.
Call Ph: 626-794-7554 at least 48 hours in advance
for a Sunday appointment.
Need more information? Didn't find what you're looking for?
Give us your feedback.
Tell us how we're doing and how we can better serve you.
Click here to email Sales. OR Click here to email Customer Service.


View Larger Map