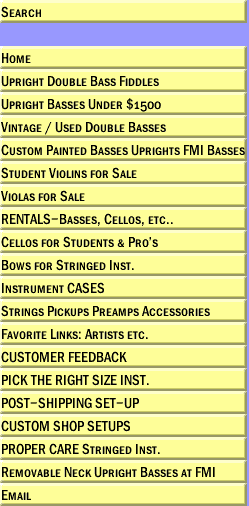 K&K Sound Bass Master Pro Bass Pickup
The Bass Master Pro is a very sophisticated transducer system for the upright bass. It consists of three components: The Double Big Twin bridge surface mount transducer with four elements, one Bass Max wing mount transducer, and a very powerful dual-channel preamp with excellent features.

The wing slot transducer(Bass Max) and the four elements that stick to the bridge(Double Big Twin transducer) are joined together into a stereo jack that mounts to the strings above the tailpiece.

The Double Big Twin pickup is designed to transmit a harmonized jazz bass sound with a lot of very low and high frequencies. The high frequency response ensures a clean amplification of the finger pick sound. The low frequency transmission produces the desired very low bassy sound picture.

The Bass Max wing mount transducer transmits more midrange, which adds power and definition to the sound. When playing arco, we recommend using only the wing transducer. It is also compatible with small combo amps.

The dual-channel preamp is a belt clip unit that features two volume controls, a stereo input, and a line level output on the outside of the box. Inside the box are adjustable controls for gain, bass, and treble for each channel. The tone controls offer an incredible +/- 20 dB. This is a wider range than some big boards on the market today! To keep the box as small as possible these controls are trim pots (small potentiometers for adjustment with a precision screw driver which is supplied). Once you install the pickups, you can adjust the two channels with these trim pots to your personal preference and needs. While performing, the two volume knobs on the outside allow for quick adjustments.





HOW TO FIND OUR STORE:
Turn down our driveway between the Retirement Center and 789 East Washington Blvd signage. Plenty of our own off-street parking. (Follow the signs that say "789 Parking in Rear".)
Our physical address is 789 East Washington Blvd. Pasadena, CA 91104.
Ph: 626-794-7554

Fantastic Musical Instruments specializes in the violin string family instruments
with a caring hands on approach.
Hours: Monday through Friday 11 AM to 6 PM
, Saturday 10 AM to 4 PM.
Sundays by appointment.
Call Ph: 626-794-7554 at least 48 hours in advance
for a Sunday appointment.
Need more information? Didn't find what you're looking for?
Give us your feedback.
Tell us how we're doing and how we can better serve you.
Click here to email Sales. OR Click here to email Customer Service.


View Larger Map