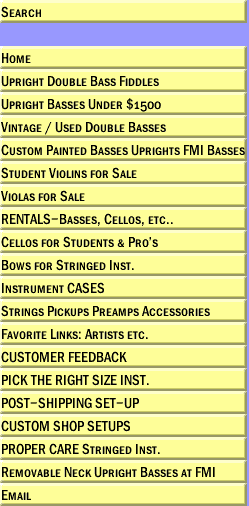 The Hercules DS590B Upright Bass Stand is rapidly becoming the choice of players of all standards who are switching from alternative designs of stands that don't last, to the Hercules Double Bass Stand which is great for both home use and regular gigging.

Like all Hercules stands, the DS590B is designed and manufactured to professional standards, making it a popular choice in recording and rehearsal studios.

One advantage for live performers unlike with other stands, is the angled height design which allows you to sit your bass in the stand with the endpin still in performing position - A great design which keeps your bass safely propped up whilst not being played, yet accessible and ready to play without having to adjust the endpin each time or lay your bass on the floor on it's side.

The strong and solid construction of this fantastic stand also features two locking pins for extra stability, as well as a bow holder built into the top. Specially formulated foam on all possible contact points is neatly fitted to protect your instrument from any scratches or knocks, and the expertly designed base ensures faultless weight distribution giving you complete peace of mind when in use.

Specifications:

Height: 90cm (35.4")
Weight: 3.4kg (7.5lbs)
Base radius: 50x60cm (19.7x23.6")
Load capacity: 50kg (110lbs)
Folded size: 68.5x90cm (27x35.4")


Insured shipping to the lower 48 U.S. States is $35.00.



HOW TO FIND OUR STORE:
Turn down our driveway between the Retirement Center and 789 East Washington Blvd signage. Plenty of our own off-street parking. (Follow the signs that say "789 Parking in Rear".)
Our physical address is 789 East Washington Blvd. Pasadena, CA 91104.
Ph: 626-794-7554

Fantastic Musical Instruments specializes in the violin string family instruments
with a caring hands on approach.
Hours: Monday through Friday 11 AM to 6 PM
, Saturday 10 AM to 4 PM.
Sundays by appointment.
Call Ph: 626-794-7554 at least 48 hours in advance
for a Sunday appointment.
Need more information? Didn't find what you're looking for?
Give us your feedback.
Tell us how we're doing and how we can better serve you.
Click here to email Sales. OR Click here to email Customer Service.


View Larger Map