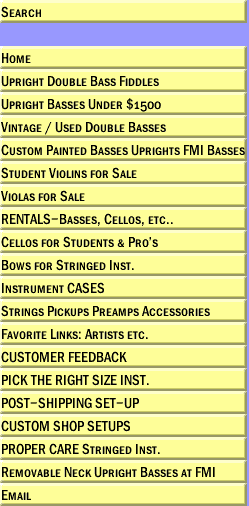 FMI Upright Basses - Ebony and Tamarind Bass Tailpieces - Larger String Holes + Bass Clef Inlays!



FMI's Exclusive Tailpieces are made with larger String Holes, making it a lot easier to get the ball-end in, and that way you donít have to bring the stringís long tail all the way through the back!


Here's a quick video demonstrating inserting the string ball through the front:






The black tailpieces are made of ebony, and the brown tailpieces are made of Tamarind, an exotic hardwood.


We Have three styles in both Brown Tamarind Wood and Black Ebony:

- Flat back
- Hollow Back
- Harp Shape


The Hollow Back and Harp Shape are thinner than the Flat Back style, so the Flat Back gives you the heaviest tailpiece.



HOW TO FIND OUR STORE:
Turn down our driveway between the Retirement Center and 789 East Washington Blvd signage. Plenty of our own off-street parking. (Follow the signs that say "789 Parking in Rear".)
Our physical address is 789 East Washington Blvd. Pasadena, CA 91104.
Ph: 626-794-7554

Fantastic Musical Instruments specializes in the violin string family instruments
with a caring hands on approach.
Hours: Monday through Friday 11 AM to 6 PM
, Saturday 10 AM to 4 PM.
Sundays by appointment.
Call Ph: 626-794-7554 at least 48 hours in advance
for a Sunday appointment.
Need more information? Didn't find what you're looking for?
Give us your feedback.
Tell us how we're doing and how we can better serve you.
Click here to email Sales. OR Click here to email Customer Service.


View Larger Map