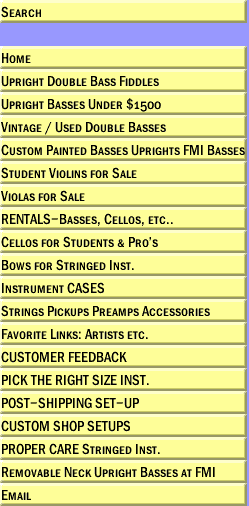 Fishman Full Circle Upright Bass Pickup


Produces an accurate, transparent sound

Fine tuning feature lets you quickly choose between an open, resonant response or a more focused tone to match your instrument and playing style

Encased inside a sturdy aluminum height adjuster wheel

Quick retro-fit on instruments with height adjustment wheels

An impedance matching preamp is recommended, but not required

Professional installation recommended

This pickup is AWESOME with nylon slap strings, you don't need a fingerboard pickup to get plenty of click - just this Fishman!
used by lots of pros and beginners alike!

Click here to check out the manual.

Shipping to the lower 48 states is only $5.00.




HOW TO FIND OUR STORE:
Turn down our driveway between the Retirement Center and 789 East Washington Blvd signage. Plenty of our own off-street parking. (Follow the signs that say "789 Parking in Rear".)
Our physical address is 789 East Washington Blvd. Pasadena, CA 91104.
Ph: 626-794-7554

Fantastic Musical Instruments specializes in the violin string family instruments
with a caring hands on approach.
Hours: Monday through Friday 11 AM to 6 PM
, Saturday 10 AM to 4 PM.
Sundays by appointment.
Call Ph: 626-794-7554 at least 48 hours in advance
for a Sunday appointment.
Need more information? Didn't find what you're looking for?
Give us your feedback.
Tell us how we're doing and how we can better serve you.
Click here to email Sales. OR Click here to email Customer Service.


View Larger Map