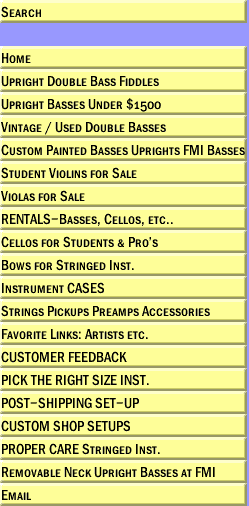 3/4 Christopher Upright Double Bass Busetto Corners, BIG Bottom End!

All Solid Carved woods double bass, Busetto Shape Corners, Awesome Bass.

Carved Spruce top and carved Maple Back. Sides and back are properly dried and aged maple. Rich and Vibrant Tone! 3/4 Size 4 string in this Busetto model, upgrade to the 500 Series for a 7/8 5 string. Only made in 4 string unless special ordered. 5 string 7/8 models ARE made in the higher grade 504 and 604 basses. Same features as described above for the Gamba shaped model. All solid carved and mildly flamed bass. This is the beautifully shaped Busetto model shown in the picture.
Features include:
Solid hand carved spruce top
Solid hand carved mildly flamed maple back and sides
Ebony fingerboard - the best ebony from West Africa
Adjustable bridge
Ebony tailpiece
Single brass machines, "Rubner" machines available upon request
Hand rubbed spirit varnish in golden brown with shading

Picture is of a 5 string 500 series model DB504F5 that I sent to a Pro player in Hawaii named Chris Albrecht albrechtc001@hawaii.rr.com


Superb setup/new bass adjustments in our shop with adjustable bridge included. NO ONE ELSE is offering custom setups on these basses before shipping to you!

Price includes great setups including dressing the fingerboard for smooth playing action. Really low jazz action takes $165 more work on the fingerboard as I REALLY work it over for a LOW jazz action when desired. I can dial in a 3 to 4 mm height for the G and D strings and not much higher on the A and E! I get RAVE reviews on this low jazz action as it is EXTREMELY low and fast easy playing without buzzing and rattling. Tell me just how low you want it and I'll work it down to that height. 3 mm at the G string is a super low setup, 5 to 6 mm leaves enough height to dig in harder but still low enough along the fingerboard for a low fast playing bass. USE THE ADJUSTERS to raise a low jazz action higher so you can dig in more without buzzing/rattling.



Call 626-794-7334 for current special on these basses!

Here are some prices on the upper level Christopher basses:

DB502 3/4 gamba is $4995 shipped

DB503 3/4 violin shape is $4995 shipped

DB503 7/8 violin shape is $5445 shipped

DB503 7/8 5 string Violin corners is $6170 shipped

DB504 3/4 Busetto shape is $5570 shipped

DB504 7/8 Busetto shape is $6070 shipped

DB504 7/8 5 string Busetto shape is $6670 shipped.


DB602 3/4 Gamba is $6970 shipped to lower 48 states

DB603 3/4 is $6970 shipped to lower 48 states.

DB603 7/8 violin corners is $7470 shipped.

DB603 7/8 5 string violin corners is $8170shipped.

DB604 7/8 busetto shape is $7935 shipped.

DB604 7/8 5 string busetto shape is $8670 shipped.


More models are available, email or call for availability of what you want size and shape wise.

Here are the dimensions of the 7/8 basses in gamba or violin corner shapes:
total length 190 cm 74.8 inches
body length 116 cm 45.7 inches
string length 106 cm 41.7 inches
upper bout 52.2 cm 20.7 inches
waist 40 cm 15.7 inches
lower bout 69.6 cm 27.4 inches
rib depth at neck heel is 17.8 cm 7 inches
rib depth at C bout is 22.2 cm 8.75 inches

Christopher is also making M Gofriller and Amati 3/4 and 5/8 model basses. Call for availability.
You can also order several models of Christopher basses to be made with European tonewoods if you desire.

**IMPORTANT SHIPPING NOTES:
$99 shipping to Qualified COmmercial addresses not more than 600 miles or so from our shop in Pasadena, CA.

A Qualified* Commercial Address is defined as a business address in an area that is incorporated or "Zoned" Commercial and where a large truck has "easy access" (a shipping & receiving dock or a place that is directly adjacent to an entrance not requiring any additional handling, i.e.; stairs or anything past the front door.
There are additional handling charges for those and other services). When choosing the "Commercial Address" option below be sure to include the name of the Company in the shipping address in the checkout process.

$99 Shipping to "Qualified* Commercial Address" requires the address to be located within 30 minutes, or so, of a major city, on major U.S. shipping arteries and not more than 600 miles or so from our shop in Pasadena Ca.

Shipping rates can vary greatly depending on where you live. More remote commercial shipping addresses on the East Coast, New England, New York, New Jersey as well as Florida or the upper Midwestern States such as North Dakota, South Dakota, Minnesota, Wisconsin, Indiana, Michigan and Ohio, for example, require additional shipping charges usually running between $35 and $85, but in the most crowded or remote areas can add on up to $140. These types of shipping destinations are more expensive to ship to from us here in California.

The customer will need to make up the difference between the initial $99 shipping and the actual shipping costs. In any case, FMI will contact you if there is additional shipping due.
Shipping to a residential address is $45 more to any State as it takes special handling by the freight line.

For exact shipping quotes inside or outside the continental United States CLICK HERE, describe the instrument as below, tell us where you are and we'll e-mail a shipping quote back to you.




HOW TO FIND OUR STORE:
Turn down our driveway between the Retirement Center and 789 East Washington Blvd signage. Plenty of our own off-street parking. (Follow the signs that say "789 Parking in Rear".)
Our physical address is 789 East Washington Blvd. Pasadena, CA 91104.
Ph: 626-794-7554

Fantastic Musical Instruments specializes in the violin string family instruments
with a caring hands on approach.
Hours: Monday through Friday 11 AM to 6 PM
, Saturday 10 AM to 4 PM.
Sundays by appointment.
Call Ph: 626-794-7554 at least 48 hours in advance
for a Sunday appointment.
Need more information? Didn't find what you're looking for?
Give us your feedback.
Tell us how we're doing and how we can better serve you.
Click here to email Sales. OR Click here to email Customer Service.


View Larger Map