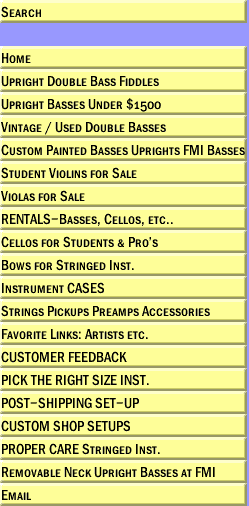 Bluegrass Bass Fiddle Milano MB-12 3/4 Upright Bass
Milano 3/4 Upright Bass Laminated Spruce Top, Maple sides and back. Great working man's bass. Big strong sound for any genre' of music.

Price is factory direct not worked on and setup for proper playing action.
Choose the level of setups you want when ordering below.


**FREE Shipping Special to Qualified* Commercial Address. Limited Time Offer**

Features include:

Select spruce top

Maple back and sides

Arched-back construction

24:1 ratio Tyrolean-style machine heads

Ebonized Hard Maple fingerboard and nut

Adjustable maple bridge cut to fit

Padded Nylon bag



**IMPORTANT SHIPPING NOTES:
Free Shipping to "Qualified* Commercial Address" requires the address to have a loading dock, to be located within 30 minutes, or so, of a major city, on major U.S. shipping arteries and not more than 300 miles from our shop in Pasadena, CA.


A Qualified* Commercial Address is defined as a business address in an area that is incorporated or "Zoned" commercial and where a large truck has access to a loading dock. When choosing the "Commercial Address" option below be sure to include the name of the Business in the shipping address in the checkout process.

Shipping rates can vary greatly depending on where you live. More remote commercial shipping addresses on the East Coast, New England, New York, New Jersey as well as Florida or the upper Midwestern States such as North Dakota, South Dakota, Minnesota, Wisconsin, Indiana, Michigan and Ohio, for example, require additional shipping charges usually running between $135 and $195, depending on where you are. These types of shipping destinations are more expensive to ship to from us here in California and some have gone over $200 more for delivery into remote or crowded expensive delivery areas in the Northeast.

The customer will need to make up the difference between the "Free" shipping allowance ($80) and the actual shipping costs. In any case, FMI will contact you if there is additional shipping due.
Shipping to a residential address is $65 more to any State as it takes special handling by the freight line.

For exact shipping quotes inside or outside the continental United States CLICK HERE, describe the instrument as below, tell us where you are and we'll e-mail a shipping quote back to you.
Important: Make sure your new bass plays like you need it to. Click here to find out about our New Bass "Custom Shop Setups"
BLOW-OUT SALE !! LIMITED TIME ONLY!




K&K Pickups for every imaginable musical instrument.
We sell all the K&K Products.


HOW TO FIND OUR STORE:
Turn down our driveway between the Retirement Center and 789 East Washington Blvd signage. Plenty of our own off-street parking. (Follow the signs that say "789 Parking in Rear".)
Our physical address is 789 East Washington Blvd. Pasadena, CA 91104.
Ph: 626-794-7554

Fantastic Musical Instruments specializes in the violin string family instruments
with a caring hands on approach.
Hours: Monday through Friday 11 AM to 6 PM
, Saturday 10 AM to 4 PM.
Sundays by appointment.
Call Ph: 626-794-7554 at least 48 hours in advance
for a Sunday appointment.
Need more information? Didn't find what you're looking for?
Give us your feedback.
Tell us how we're doing and how we can better serve you.
Click here to email Sales. OR Click here to email Customer Service.


View Larger Map