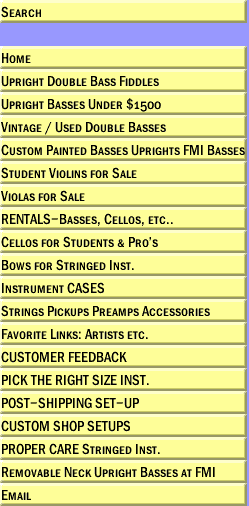 SOLD
Christopher DB402T Removable Neck Upright Bass 3/4 - Gently Used
Gently used bass, rented and gigged with a little. WAY below retail now.
2013 Christopher DB402TRN model upright bass. The RN stands for removable neck and the T stands for Three quarter size, the standard adult size bass.

Made in China as a removable neck upright.

That ebony wood knob on the back is the handle to a bolt that holds metal to metal inside the neck joint; very strong way to attach. Strong sustained volume with great carved bass tone.

Christopher all carved basses are known for their rich tone and long sustain as well as top level workmanship and durability.

This one makes it EASY to travel with an upright !


Gig bag available that holds bass assembled, and has a separate bag to hold neck when removed.

You can also get a lightweight hard case with wheels from here and travel quite easily with a removable neck upright bass.

Outstanding condition, great sounding carved construction acoustic upright bass ! Available for immediate shipping anywhere.
HOW TO FIND OUR STORE:
Turn down our driveway between the Retirement Center and 789 East Washington Blvd signage. Plenty of our own off-street parking. (Follow the signs that say "789 Parking in Rear".)
Our physical address is 789 East Washington Blvd. Pasadena, CA 91104.
Ph: 626-794-7554

Fantastic Musical Instruments specializes in the violin string family instruments
with a caring hands on approach.
Hours: Monday through Friday 11 AM to 6 PM
, Saturday 10 AM to 4 PM.
Sundays by appointment.
Call Ph: 626-794-7554 at least 48 hours in advance
for a Sunday appointment.
Need more information? Didn't find what you're looking for?
Give us your feedback.
Tell us how we're doing and how we can better serve you.
Click here to email Sales. OR Click here to email Customer Service.


View Larger Map