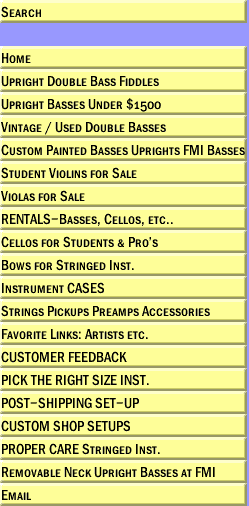 Lightweight Cello Hard Case ONLY 8 POUNDS !
All Sizes of Cello Hard Cases Available To Ship Right Now!

Not shipping now as rates are way too high!
These can be picked up at our store location in Pasadena, CA.

Durable great protection for cellos of all sizes is now available here! Brand new cello hard cases on the market and ready to ship now, 4/4 down to 1/4th cello sizes.

Choose the size of cello hard case you want from the Size option next to the Order button.

Inside bridge clearance height on the 4/4 size is 10".

Some features are:


4/4 size weighs only 8 lbs.
Padded removeable backpack straps
6 reinforced carrying pull straps
Metal feet on bottom and sides
2 bow holders with padded strap lock
Full suspension pads now under cello
Large storage compartment inside
Heavy leather velcro strap for neck
Sturdy outside zipper music etc. compartment
Padded 600 denier ballistic nylon outside is water repellent

Great Cello Hard Case for protecting your cello no matter how cheap or expensive your cello is. Great cellos for sale too on cellos page, check them out!

Insured shipping/handling to the lower 48 U.S. states is $60. (FREE shipping when purchased with most cellos we sell)


Note: This case is for all "Standard Dimension" cellos. It does not fit "Knilling" style cellos which are longer. Measure your cello if you have any doubt whether it will fit or not.
Example: 4/4 case dimensions are;

51-1/2" total inside length from scroll to endpin

48-3/4" length for scroll to bottom edge of cello

30" body length space, endpin can extend beyond that.

Top of accessory compartment is 8" from the top of the body area where the neck rests.

9-1/2" from top end of accessory compartment to end of scroll area.

17-1/2" length for top of scroll down to top of body.

10" Bridge clearance height inside case

6-1/2" deep at edges of cello body

18" lower bout width max

13" waist max

15-1/2" upper bout max width

7-1/2" scroll peg width space

9" depth of space where scroll fits.

3/4 Cello Case Dimensions:

27-1/2" main body length area

44-1/4" total cello body length scroll to bottom

46-1/2" scroll to end of endpin length


1/2 size case measures:

Upper bout 13"

Lower bout widest 16.5"

Body excluding neck heel 27-1/4"

Total from end of body to top of scroll 44"

Depth at lower bout 4-3/4"


1/4 size case measures:

40-1/4" total inside length including endpin space

38" total inside length for cello not counting endpin space

23-3/4" body length including neck heel and not counting endpin

11-1/4" upper bout width

7-7/8" waist

14" lower bout width




Price of cello case picked up at our store is $159 plus tax.



HOW TO FIND OUR STORE:
Turn down our driveway between the Retirement Center and 789 East Washington Blvd signage. Plenty of our own off-street parking. (Follow the signs that say "789 Parking in Rear".)
Our physical address is 789 East Washington Blvd. Pasadena, CA 91104.
Ph: 626-794-7554

Fantastic Musical Instruments specializes in the violin string family instruments
with a caring hands on approach.
Hours: Monday through Friday 11 AM to 6 PM
, Saturday 10 AM to 4 PM.
Sundays by appointment.
Call Ph: 626-794-7554 at least 48 hours in advance
for a Sunday appointment.
Need more information? Didn't find what you're looking for?
Give us your feedback.
Tell us how we're doing and how we can better serve you.
Click here to email Sales. OR Click here to email Customer Service.


View Larger Map