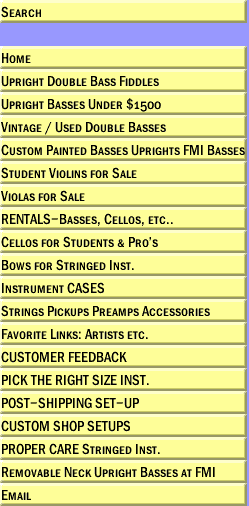 Upright Bass Hard Case 3/4 Size with Wheels, Lightweight.
4/4 Size not available at this time


Shell is thick hard styrofoam, very strong and only 18 lbs(8.2Kg)


Strap high on back of neck makes for easy pulling or pushing. Good big pockets on outside, zipper all around outside and velcro closure flap. Velcro strap over neck holds bass in place well. Is actually larger than an upright bass so is not cheaper to ship. Room for bridge and endpin to not get bumped inside case.

Great "Roadie" case. This hard case is great for transporting your bass in the van/truck with the rest of the bands gear as it will protect it quite well. Being used often now for airline flights.

We had a touring pro use one of these cases for 3 years in all kinds of travel including many airline flights. The case held up with only 2 cracks in the inner part of the case, the hard foam sides at the thinnest points above the shoulders, but was still a useful case. He was ready to get a nicer looking new one with good wheels though, so left his old one with us.
P.S. Many more bands are traveling with this lightweight hard case on planes as it keeps the weight under 50 lbs and is good enough protection in most instances when compared with the much heavier fiberglass trunks. .

Features are:


Empty case weighs 18 pounds

Shell is thick hard styrofoam, very strong

Side and top reinforced carrying pull straps

Hard plastic bumpers on the bottom so the case stands up stably

Hard plastic bumpers on the back protect case from scraping the floor

2 bow holders inside with padded strap locks

Heavy duty wheels make it easy to haul around

Heavy duty velcro strap inside for neck

Large sturdy outside zippered music compartment on the back

600 denier ballistic black nylon fabric outside is water repellent


MEASURE your bass and compare to inside dimensions of this case:

INSIDE DIMENSIONS of CASE:

Upper Bout Width 21-1/4" (across shoulders)

Waist Width 17 1/2"

Lower Bout Width 26-1/2"

Overall Length 75" (6 feet 3 inches) Plus 3" space for endpin

Body Length 47-1/2" lower edge to top of neck heel

Rib Height at Waist 9.5"
Bridge Clearance 18-3/4"

The shipping box measures:

82" Tall

35" Wide at the bottom and 17" at top

21" Deep.

The Bass Case itself measures:
20-1/2" deep x 29-1/2" wide x 79-3/4" tall, at the widest and tallest points.
Of course, the case itself, is much wider in the lower part than the upper part.


NEWEST BATCH OF CASES INSIDE DIMENSIONS:
3/4 SIZE:

Upper Bout Width 20"

Lower Bout Width 26-1/2"

Overall inside Length 73-3/4" PLUS 3" for endpin

Rib Height/Depth 8-1/2"

Bridge Clearance 17-1/2"

Body Length 46-3/4" lower edge to Top of Neck Heel

Body Length 58-1/4" lower edge to Start of Scroll


4/4 SIZE:

Upper Bout Width 21-3/4"

Lower Bout Width 27-1/2"

Overall inside Length 74-1/2" PLUS 3" for endpin

Rib Height/Depth 8-1/2"

Bridge Clearance 18"

Body Length 46-3/4" lower edge to Top of Neck Heel

Body Length 62-1/4" lower edge to Start of Scroll

14-1/2" minimum distance between bottom of scroll and neck heel- this allows bass neck to fit over the accessory compartment. Less than 14-1/2" space on the bass and we'll have to cut the accessory compartment shorter.



SHIPPING NOTICE: Because of the size of the shipping box we have to use a Freight Company to ship this baby. Shipping to a valid commercial address
(within 300 miles of our store)
in the lower 48 states is $319.00. A Qualified* Commercial Address is defined as a business address in an area that is incorporated or "Zoned" commercial and where a large truck has "easy access" to a Loading Dock. When choosing the "Commercial Address" option below be sure to include the name of the Company in the shipping address in the checkout process.

More remote commercial shipping addresses on the East Coast, New England, New York, New Jersey as well as Florida or the upper Midwestern States such as North Dakota, South Dakota, Minnesota, Wisconsin, Indiana, Michigan and Ohio, for example, require additional shipping charges usually running between $85 and $195, depending on where you are. These types of shipping destinations are more expensive to ship to from us here in California. These areas could be an additional $85 to $195.

You can call or email us for exact quote, or order and we'll contact you with exact quote if there is an additional charge before processing you order. ($65 more for any residential or restricted access address in any State because it requires special freight handling.)

Picked up here at our store in Pasadena, price is the ordering price plus tax, no shipping charges.

For exact shipping quotes inside or outside the continental United States CLICK HERE, describe the item as below, tell us your city and zip code, whether going to residential or commercial, and we'll e-mail a shipping quote back to you.



HOW TO FIND OUR STORE:
Turn down our driveway between the Retirement Center and 789 East Washington Blvd signage. Plenty of our own off-street parking. (Follow the signs that say "789 Parking in Rear".)
Our physical address is 789 East Washington Blvd. Pasadena, CA 91104.
Ph: 626-794-7554

Fantastic Musical Instruments specializes in the violin string family instruments
with a caring hands on approach.
Hours: Monday through Friday 11 AM to 6 PM
, Saturday 10 AM to 4 PM.
Sundays by appointment.
Call Ph: 626-794-7554 at least 48 hours in advance
for a Sunday appointment.
Need more information? Didn't find what you're looking for?
Give us your feedback.
Tell us how we're doing and how we can better serve you.
Click here to email Sales. OR Click here to email Customer Service.


View Larger Map