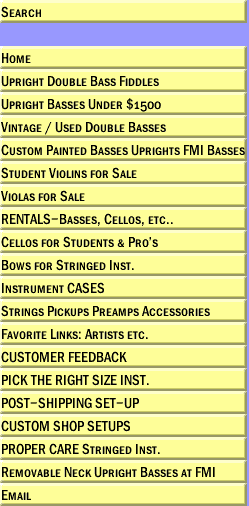 1941 Kay M-1 Standup Bass, Vintage Acoustic Bass, Serial # 7487.




ALL ORIGINAL EXCEPT ENDPIN UPGRADED YEARS AGO AND BRIDGE REPLACED LAST YEAR.
The original neck has a carved scroll unlike most Kay scrolls. This is a rare Kay bass.
$1000 work done to this bass last year. Neck joint was loose and was reset by "World of Strings" and they did some other work on it, $1000 all total. Bass is in great condition with some chipped away top laminate edges.
Original Strawberry Blonde finish is in great condition as you can see.
Kay logo stamped in the Scroll heel.
Original Ebony fingerboard is in great shape.
Original Ebony horseshoe plug at end of neck heel.
Original tailpiece has the metal Kay logo in it.
All laminated construction with well flamed maple sides and back.

It has an Eb(E Flat) neck which means on the G string, Eb is played level with the top of the neck heel. Bass has great sustain and an outstanding orchestral sound. Sounds as good as many carved top basses.


You may pick up in our store too and save the shipping on this one.
No bag or bow but they are available separately.



HOW TO FIND OUR STORE:
Turn down our driveway between the Retirement Center and 789 East Washington Blvd signage. Plenty of our own off-street parking. (Follow the signs that say "789 Parking in Rear".)
Our physical address is 789 East Washington Blvd. Pasadena, CA 91104.
Ph: 626-794-7554

Fantastic Musical Instruments specializes in the violin string family instruments
with a caring hands on approach.
Hours: Monday through Friday 11 AM to 6 PM
, Saturday 10 AM to 4 PM.
Sundays by appointment.
Call Ph: 626-794-7554 at least 48 hours in advance
for a Sunday appointment.
Need more information? Didn't find what you're looking for?
Give us your feedback.
Tell us how we're doing and how we can better serve you.
Click here to email Sales. OR Click here to email Customer Service.


View Larger Map