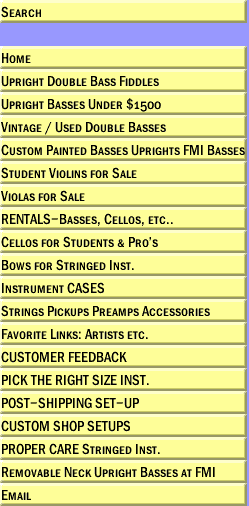 SOLD
1946 Kay M-1 3/4 #13103 Upright Bass
Body and Finish in Beautiful condition!
Hard to believe it's already 73 years old!

Sounds fantastic too, all this has been done to it:
Fingerboard dressed and shaped for clean low playing action
New adjustable hard maple bridge installed
Deluxe Endpin installed
New Soundpost installed
Spirocore Medium strings installed
Original finish cleaned and buffed out to look fresh!

Bass is ready to gig anywhere!
Neck heel shows crack back where it is not a structural weakness,
the neck heel is not in danger of coming loose.


Price is reduced to reflect this cosmetic situation.


HOW TO FIND OUR STORE:
Turn down our driveway between the Retirement Center and 789 East Washington Blvd signage. Plenty of our own off-street parking. (Follow the signs that say "789 Parking in Rear".)
Our physical address is 789 East Washington Blvd. Pasadena, CA 91104.
Ph: 626-794-7554

Fantastic Musical Instruments specializes in the violin string family instruments
with a caring hands on approach.
Hours: Monday through Friday 11 AM to 6 PM
, Saturday 10 AM to 4 PM.
Sundays by appointment.
Call Ph: 626-794-7554 at least 48 hours in advance
for a Sunday appointment.
Need more information? Didn't find what you're looking for?
Give us your feedback.
Tell us how we're doing and how we can better serve you.
Click here to email Sales. OR Click here to email Customer Service.


View Larger Map