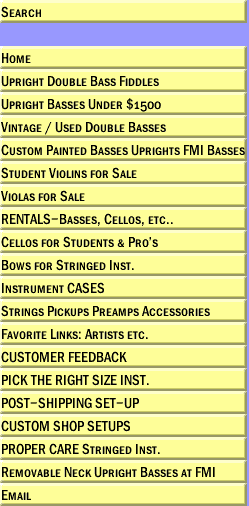 1963 Ernst Heinrich Roth German Bass!VERY nice carved german bass, big orchestral sound and big rich jazz sound too.

See/hear this bass here: Note that the sound track was laid over this video of the bass and DOES NOT match the playing you see. I recorded this sound track with my Zoom H2 recorder and muted the track from the video while laying in the Zoom recording:


Here's this same video with the original audio and visual recording as made with my Canon PowerShot S5is digital camera: The sound is much better with the camera close to the bass, that's why the moving in close to the f-holes activity:





This is a fine jazz/orchestral bass from the Ernst Heinrich Roth Bass Shop in Germany.

This is one fine all solid carved bass.
GORGEOUS in looks and sound.
Bowing gives off a powerful rich sound that is quite IMPRESSIVE!

42" string length from nut to bridge makes this a 3/4 bass.

The bass is 6'2" tall top of scroll to bottom of endpin at it's shortest.

It has an Eb(E Flat) neck which means on the G string, E Flat is played level with the top of the neck heel.



You may pick up in our store too and save the shipping on this one.

It has several repaired cracks which were cleated and repaired quite well with the top off, don't know when this was done though. Everything is buttoned up tight on this bass now.



HOW TO FIND OUR STORE:
Turn down our driveway between the Retirement Center and 789 East Washington Blvd signage. Plenty of our own off-street parking. (Follow the signs that say "789 Parking in Rear".)
Our physical address is 789 East Washington Blvd. Pasadena, CA 91104.
Ph: 626-794-7554

Fantastic Musical Instruments specializes in the violin string family instruments
with a caring hands on approach.
Hours: Monday through Friday 11 AM to 6 PM
, Saturday 10 AM to 4 PM.
Sundays by appointment.
Call Ph: 626-794-7554 at least 48 hours in advance
for a Sunday appointment.
Need more information? Didn't find what you're looking for?
Give us your feedback.
Tell us how we're doing and how we can better serve you.
Click here to email Sales. OR Click here to email Customer Service.


View Larger Map