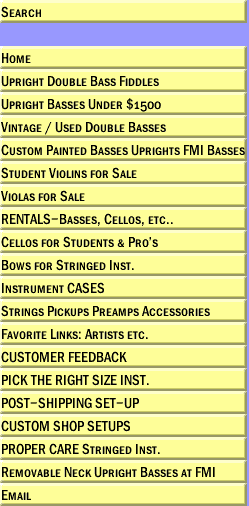 1920's German All Solid Carved 3/4 Upright Bass



Neck never broken, few cracks well repaired,
Professional setup done at FMI including fingerboard work and adjustable bridge with ebony adjuster wheels for easy adjusting.

Old high grade German individual tuning machines, Deluxe Endpin, Kay tailpiece, flexible tailcord hanger.
This vintage bass has the rich older German bass sound you'd expect, nice arched back of solid carved maple and the old carved spruce top combine to give this baby that desirable rich old bass tone.


41-5/8" String Length

20" wide Upper Bout

26" wide Lower Bout

8" deep Ribs

6-3/4" deep Rib at Neck Heel

35" long Fingerboard

Top Center of Bridge is 6-1/8" above Face of Bass.

No crack or damage near soundpost, repaired cracks are done right and holding strong and are not in sensitive areas.




Call us to talk about this bass and see if it's right for you! 626-794-7554



HOW TO FIND OUR STORE:
Turn down our driveway between the Retirement Center and 789 East Washington Blvd signage. Plenty of our own off-street parking. (Follow the signs that say "789 Parking in Rear".)
Our physical address is 789 East Washington Blvd. Pasadena, CA 91104.
Ph: 626-794-7554

Fantastic Musical Instruments specializes in the violin string family instruments
with a caring hands on approach.
Hours: Monday through Friday 11 AM to 6 PM
, Saturday 10 AM to 4 PM.
Sundays by appointment.
Call Ph: 626-794-7554 at least 48 hours in advance
for a Sunday appointment.
Need more information? Didn't find what you're looking for?
Give us your feedback.
Tell us how we're doing and how we can better serve you.
Click here to email Sales. OR Click here to email Customer Service.


View Larger Map